»

About Fox River Sporting

We offer investment grade sporting items!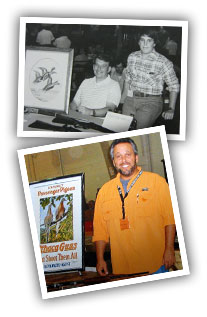 Tom J. Wyraz operates Fox River Sporting just outside of Utica, New York, in the foothills of the Adirondack Mountains, a region rich in American gun making tradition sporting. The area was the original home of Savage Arms for nearly 50 years and has been the home of Remington Arms for nearly two centuries. The passion for hunting and fishing runs deep in this part of the country. Nice examples of investment grade collectibles abound, many times still in the hands of original owners' families when they are acquired by Fox River Sporting.

Tom began collecting fine rifles and shotguns with his Dad more than 30 years ago at the age of 14. (Black and White Picture)

"Our interest in guns began with special Winchester rifles and grew into many directions covering most American Vintage Guns. For the past two decades I have taken a keen focus on A.H. Fox shotguns. American gun companies commissioned the best illustrators of the day to create posters, calendars, and catalogs, depicting scenes of their products being used afield. We are proud to offer works by Philip Goodwin, A.B. Frost, and many others. These great pieces of sporting art give us a glimpse into the past and have become highly regarded and very collectible.

Our goal is to offer investment grade high condition sporting items of yesteryear for future generations to appreciate and enjoy… and to have you more than satisfied with your purchase."
--Tom Wyraz "Jr"
---